LIV Cannabis Awarded First Accessibility and Inclusion Award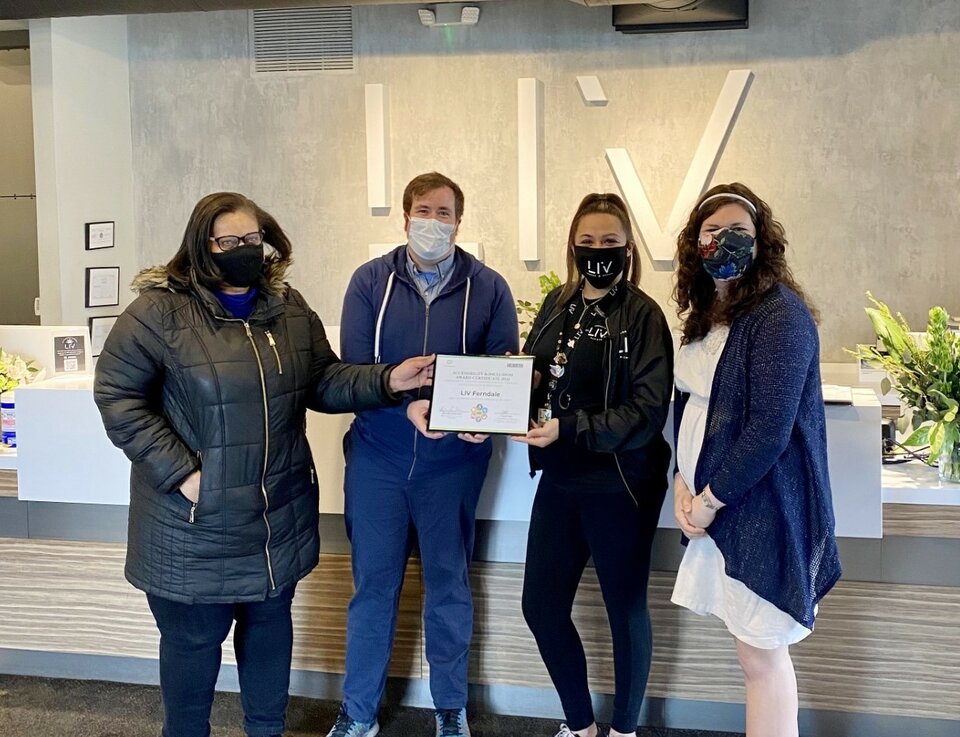 The Ferndale Accessibility and Inclusion Advisory Commission (FAIAC) is thrilled to award LIV Cannabis with the first annual Accessibility and Inclusion Award. Last Thursday, April 22, FAIAC members Alan Hejl and Rachel Zaback presented the award, along with Mayor Pro Tem Raylon Leaks-May, to owner Dennis Zoma and other staff members at LIV. An additional award presentation was given during Monday night's City Council Meeting.
The award sought to highlight community leaders who have made noticeable strides to accessibility and inclusion, emphasizing the concept of inclusion over compliance. The goals of the award program were to recognize effort and subsequent human impact, provide encouragement and inspiration for other businesses, acknowledge incremental improvements, rather than high-dollar investments, and demonstrate examples of going above and beyond ADA requirements. Areas of improvement could include but were not limited to digital, environmental, cognitive, or employment accessibility, accessibility training and awareness, communications accessibility, or other entries outside of those categories mentioned.
‍

LIV Cannabis was awarded based on many different accessibility efforts. One distinguishable feature is the staff provides door-to-door wheelchair service to guests upon entry. The trained security staff is instructed to verify if guests need additional assistance upon entry, and if so, provide a wheelchair located in the foyer with additional seating options if needed. The physical construction of the space itself is also very open and spacious, with a deliberate layout to ensure all products are easily visible. LIV also offers in-store pickup, curbside pickup, and delivery upon request for their wide variety of products. Furthermore, staff also has the opportunity to attend an American Sign Language course every Saturday, making them one of the first businesses in the area to work toward the goal of having their staff ASL trained.
‍

"It is an honor to receive the award, especially as the first business," said LIV Owner Dennis Zoma. He hopes to inspire other businesses to take further initiatives in accessibility improvements.
Stay tuned to the FAIAC's Facebook for upcoming award periods in 2021! If you ever have a nomination idea for businesses focusing on inclusion of people with disabilities, please fill out the form in this link.
To learn more about LIV Cannabis, visit their website.