Ferndale Declares Snow Emergency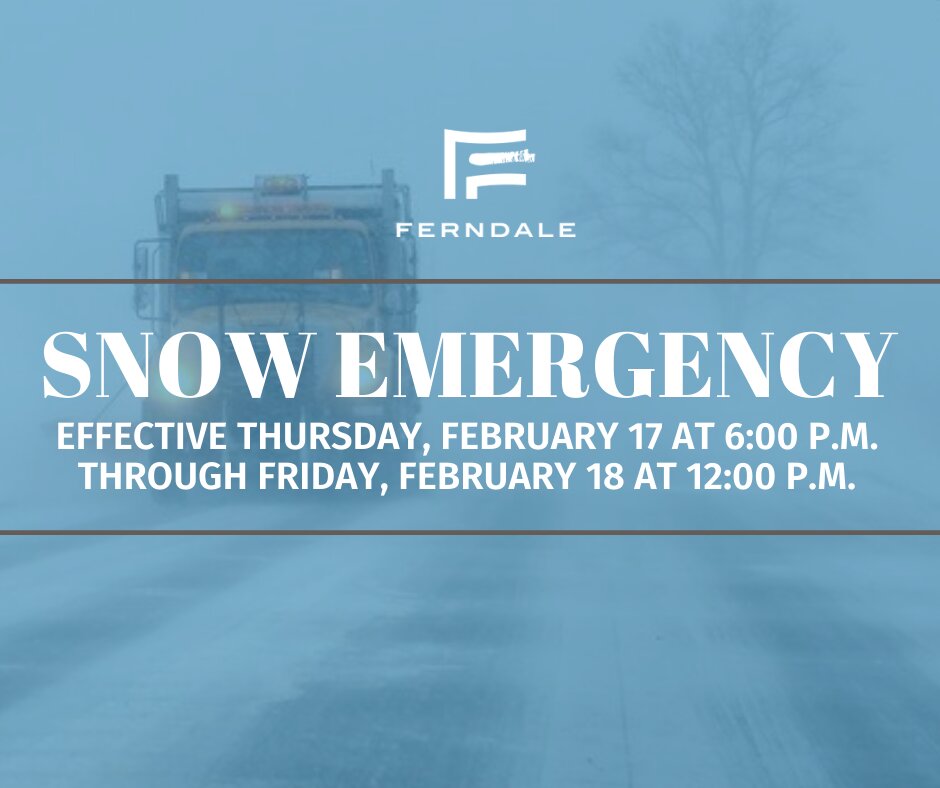 The snow emergency has officially expired as of 12:00 p.m. on Friday, February 18.
‍
SNOW EMERGENCY CALLED
The City of Ferndale has preemptively declared a snow emergency effective Thursday, February 17 at 6:00 p.m. and is anticipated to remain in effect until Friday, February 18 at 12:00 p.m.
The National Weather Service has issued a Winter Storm Warning for the Ferndale area, with a forecast of 4 to 8 inches of snow and mixed precipitation. The Department of Public Works (DPW) will be working throughout the night to tackle snow removal as it falls/accumulates, and will need full access to local roads and streets to perform their work safely and expediently.‍
WHAT IS A SNOW EMERGENCY?
A snow emergency is basically an alert for all vehicles to be removed from local roads and streets. When a snow emergency is called, it means the City has received/will receive a significant accumulation of snow and ice—typically four or more inches. In order for streets to be safely and effectively cleared, vehicles must be removed; failure to do so may result in citations and/or towing.
BUT THE POLICE WON'T REALLY TICKET, WILL THEY?
Yes! During the most recent snow emergency, the Ferndale Police Department wrote more than 200 citations.
IF I CAN'T PARK ON MY STREET, WHERE CAN I PARK?
During snow emergencies, the City provides designated snow emergency parking areas throughout the city:
West Breckenridge Parking Lot—Located just west of Woodward Ave. behind Treat Dreams/Citizens Bank
East Breckenridge Parking Lot—Located just east of Woodward Ave. behind The Fly Trap
Kulick Community Center—Located at 1201 Livernois Ave.
Martin Rd. Park Lot—Located at 1615 E. Lewiston Ave.
Harding Park Lot—Located on Mapledale Ave. at Wolcott St.
The dot parking development—Located at 221 W. Troy St. Please park on Level B1 or Level 2.
Parking in these lots is free during all snow emergencies. Enforcement will begin at 6:00 p.m., but you are welcome to move your vehicle ahead of time.
DO I HAVE TO HAVE MY VEHICLE OFF THE STREET THE ENTIRE TIME?
You can return to street parking once the snowfall/storm is over and the plow has been through and cleared your street curb-to-curb—that's generally 2-3 pass-throughs from the plow.
THE PLOW TRUCK PUSHED A BUNCH OF SNOW INTO MY DRIVEWAY... WHAT GIVES?
Yes, we understand how annoying that can be. But the truth is, it's unavoidable. Our plow trucks are designed to push a large amount of snow quickly and efficiently so streets can be cleared and made safe for travel. That means some snow will end up at the bottom of your driveway. It's not personal and our drivers are doing everything possible to minimize it;  it's simply a byproduct of cleaning up large snows.
THIS IS A TOTAL INCONVENIENCE... IS IT REALLY NECESSARY?
Yes. We know it isn't ideal, and we're sorry about that. But plowing large accumulations of snow requires space, particularly on narrower urban-neighborhood streets. If vehicles remain parked, plows are only able to make a narrow pass through the center of the street, leaving behind bulky snow piles and making road conditions difficult for other drivers. So please be considerate of our plow drivers and your neighbors—move your vehicle to one of the free snow lots or park it at a friend's house
BUT MY STREET NEVER GETS PLOWED!
We assure you, it does. If vehicles aren't moved, plows are only able to do a narrow push down the street's center, which may appear like it hasn't been serviced. As residents, we must work together to ensure that vehicles are moved. Have a street full of snow-emergency-parkers? Contact the Ferndale Police Department non-emergency at 248-541-3650. Also keep in mind that local neighborhood streets are only plowed during snow emergencies, not in the case of smaller (under 4") snowfalls.
WHO DO I CALL IF MY NEIGHBORS DON'T MOVE THEIR CARS?
Contact the Ferndale Police Department non-emergency at 248-541-3650. Please do not call 911.

Thank you for your assistance and support!