Ferndale City Hall to Display Pan-African Flag in Honor of Black History Month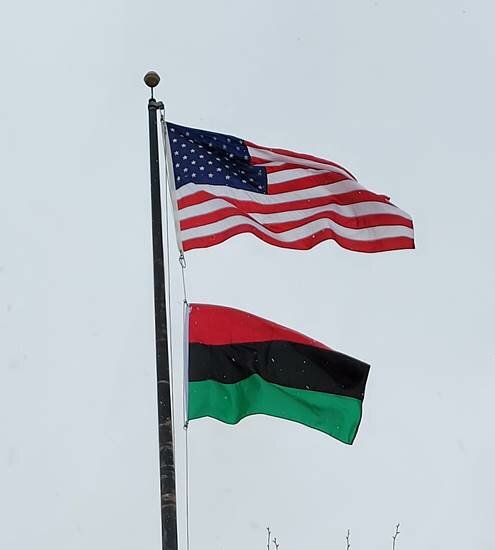 For the second year in a row, Ferndale City Council has unanimously passed a resolution to raise the Pan-African flag outside City Hall in honor of Black History Month. The flag will be displayed for the entire month of February.  
The Pan-African flag was created in 1920 to represent the people of the African Diaspora and the black liberation of the United States. The tri-color flag consists of three equal horizontal bands of red, black, and green – red, symbolizing the blood that unites all people of Black African ancestry and was shed for liberation; black, symbolizing black people whose existence as a nation (though not a nation-state) is affirmed by the existence of the flag; green, symbolizing the abundant natural wealth of Africa.  
The resolution was streamlined last year by Councilwoman Raylon Leaks-May, with support from Assistant to the City Manager Danicea Woods-McSwain, as one of the several initiatives undertaken by the City following City Council's June 2020 Commitment to Antiracism. Councilwoman Leaks-May was approached by a Ferndale High School student who was seeking additional ways the City could offer more support and celebration to the black community. Councilwoman Leaks-May felt this resolution was a great way to not only support the declaration, but to acknowledge Black History Month and the diversity, contributions, and accomplishments of the black community.  
"I'm really proud of this because it further affirms the City's commitment to antiracism in the City of Ferndale," said Leaks-May. "I hope that it serves as a reminder of the City's commitment to Antiracism to those who pass through Ferndale."