RESOURCE:
Zero waste is the conservation of all resources by means of responsible production, consumption, reuse, and recovery of products, packaging, and materials without burning and with no discharges to land, water, or air that threaten the environment or human health.
Zero Waste City
The concept of a "zero waste city" includes a 100 percent recycling rate and recovery of all resources from waste materials. The zero-waste design principle goes beyond recycling to focus first on reducing wastes and reusing products and then recycling and composting the rest. This is part of the circular economy.
FERNDALE'S EFFORTS
The City launched a Compost Pilot Program in the fall of 2021 for residents and businesses that has since expanded into a permanent program. Composting is a sustainable method of disposal intended to reduce the amount of food waste being sent to landfills. All food waste collected is taken to a certified facility to be composted.

Additionally, the City has also taken steps to add zero-waste practices to City facilities. Currently, City Hall is composting paper towels and other waste materials throughout the facility. The Fire Stations also compost food waste from their kitchens. Zero waste practices have also been extended to special events, both in the policies of vendors and waste receptacles.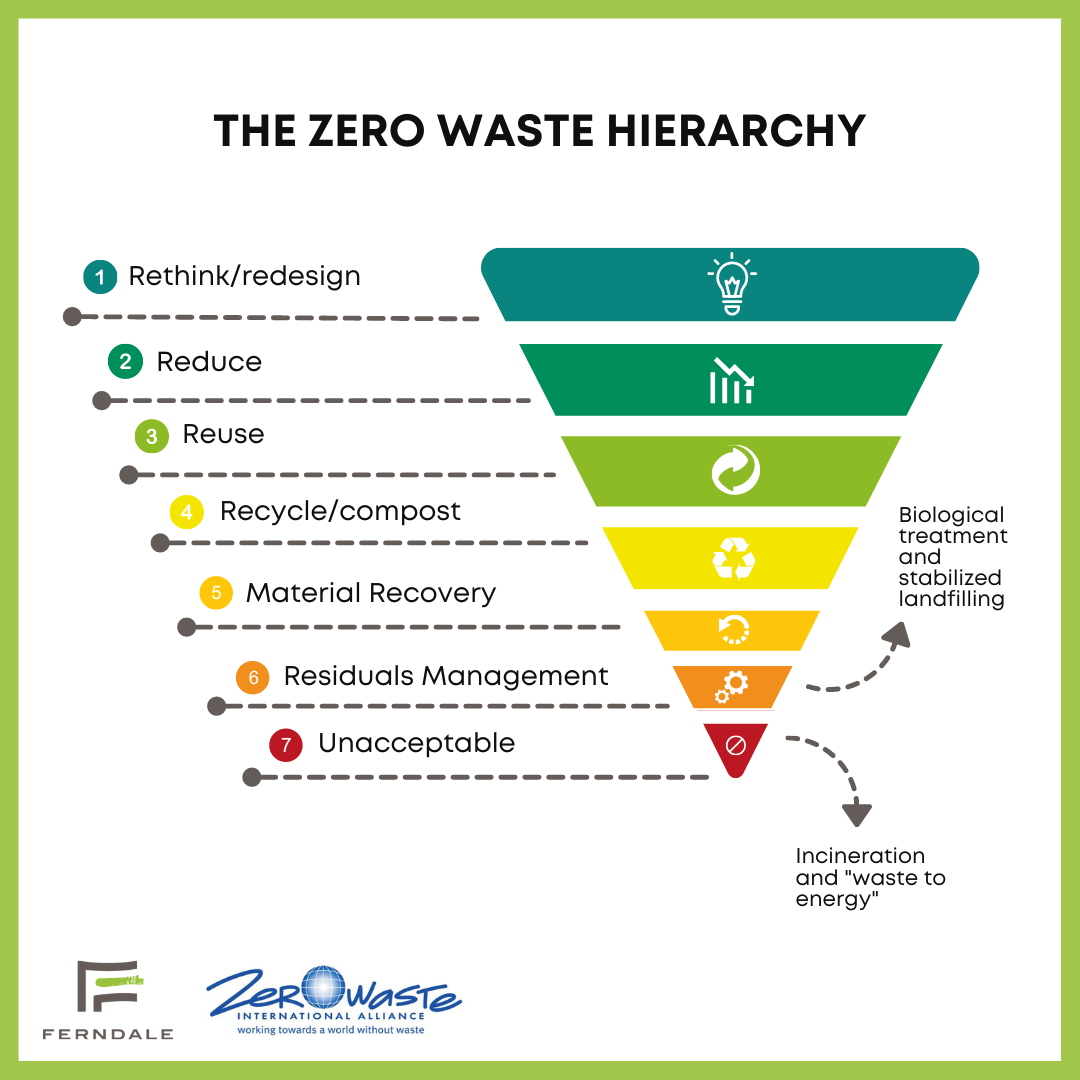 COMPOSTING TIPS
38% of the disposed waste in Michigan is organic material, and nearly half of this is food waste. Composting food helps keep things out of the trash.
‍
BENEFITS
Keeping food waste from being sent to landfills and creating greenhouse gas emissions
Enriching the soil, which creates a healthy product that is full of nutrients, which reduces the need for chemical fertilizers
Holding moisture in the soil, which allows for less watering
‍
GREENS VS. BROWNS
Greens (nitrogen) + Browns (carbon) + Water (moist pile) + Time = Nutritious compost that is ready to add to your garden and feed your plants

Greens: moist, nitrogen-rich items like food scraps, eggshells, grass clippings, coffee grounds, etc.
Browns: dry, carbon-rich items like leaves, straw, dead plant clippings, newspaper, sawdust, wood chips, soiled napkins, and paper plates
To comply with Ferndale City Ordinance, compost piles shall not exceed four feet by eight feet or six feet in diameter and four feet in height.
TIPS
There is no one right way to compost! Though the systems available have different costs and benefits, all can be successful.
Be sure not to add any dairy, meat scraps, fats, oils, or animal waste.
Remember, a pile of only food waste will not break down into compost. Instead, it will rot, attracting pests and releasing odors. Adding more browns than greens will ensure a balanced pile that will break down properly.
Adding alternate layers of brown and green material is best. The brown layer should be twice as thick as the green layer with no food showing.
WASTE WIZARD TOOL
Not sure what goes where in your trash, recycling, or compost? Visit the SOCRRA Waste Wizard tool and search for the item you're looking for to find disposal instructions.
SOCRRA DROP-OFF CENTER
For all mixed recycling items, cardboard, styrofoam, scrap metal, paints, chemicals, and electronics, visit the SOCRRA Drop Off Center. The drop-off center is open and free to the public by appointment.
HOUSEHOLD HAZARDOUS WASTE DISPOSAL
SOCRRA's Household Hazardous Waste Drop-Off Center is open by appointment only. Items such as batteries, medical items, fertilizer, old medication, cleaning products, ammonia and bleach, latex and oil paints, glues, compact fluorescent bulbs, and more all require special handling and safe disposal and should never be placed in the trash.