Snow Removal And Winter Maintenance
The City of Ferndale has a Winter Maintenance Guide in place to keep city streets clean during inclement weather. The Guide prioritizes which city streets will be cleaned first during a snow emergency. Streets are divided into five priorities and are cleaned per the schedule below: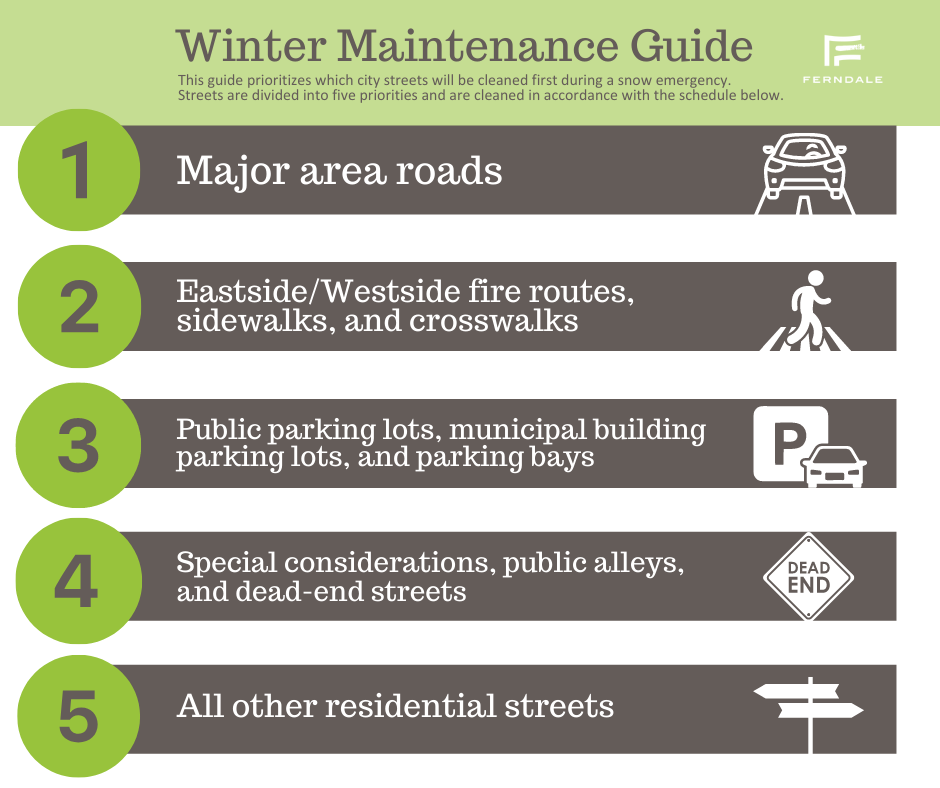 For information about snow parking and snow emergencies, see the City's snow emergency page.
‍ Residential Snow Removal
We as a community are responsible for keeping Ferndale safe for pedestrians and neighbors. Ferndale ordinance requires that property owners are responsible for clearing property sidewalks within 24 hours of the first accumulation. Citations will be issued 24 hours after the snow event if the snow is not cleared. For example, if the active snowfall ends at 3:00 p.m. today, please have snow removed no later than 3:00 p.m. tomorrow.
Tips for Removing Snow and Ice
Shovel the full width of the sidewalk on all sides of your property, down to the bare pavement.
Remove all ice from sidewalks. After the sidewalk is clear, sprinkle sand, salt, or cat litter to provide traction. Pile snow onto your own yard or boulevard; it's against City ordinance to shovel snow into streets and alleys. If you have a corner property, you are required to clear the curb ramps at crosswalks down to the street gutter.
Avoid a ticket! If the City of Ferndale receives a complaint or discovers that a sidewalk is not properly cleared, Ordinance Enforcement will inspect the sidewalk and allow the property owners the opportunity to clear it. If the sidewalk has not been cleared upon re-inspection, the property owner may be issued a citation with a fine. Abatement crews will remove the snow and ice from the sidewalk. Property owners will be billed for this service.
Remember: You are responsible for clearing ice and snow on your sidewalk. The sooner and more completely you shovel, the less likely that ice will form. Make arrangements for someone to take over while you are on vacation.