Public Works Appreciation Week: DPW Employees Honored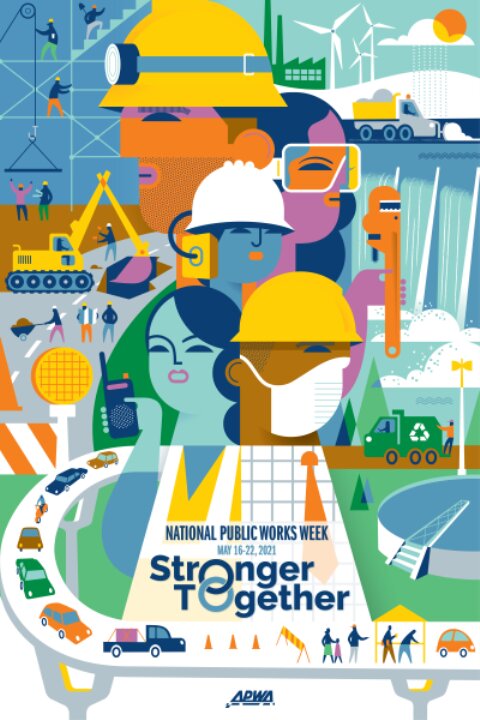 The American Public Works Association (APWA) has proclaimed that May 17-23, 2021 is Public Works Appreciation Week—an opportunity to thank and celebrate the many DPW employees across the US and Canada, as well as educate the public about the importance of public works in our daily lives: planning, building, managing, and operating at the heart of our local communities to improve everyday quality of life.
Ferndale's Department of Public Works employs more than 30 individuals responsible for preserving, maintaining, and advancing infrastructure critical to the community's health and well-being. Even in a smaller city like ours, DPW staff work hard—often around the clock, over weekends, and on holidays—operating and maintaining more than:
80 linear miles of water and sewer lines
75 linear miles of streets
2,500 catch basins
10,000 street signs
16 signalized intersections
140 acres of parkland
150 linear miles of sidewalks
10,000 water, sewer, and solid waste customers
Thousands of citizens and visitors who travel our streets each and every day
Our DPW workforce often goes unseen, responsible for so many of the things we use and experience daily—paved streets and sidewalks, running water, landscaping and greenery throughout our downtown, snow removal, and more—yet working behind the scenes, often in inclement weather, to ensure that our services are well maintained and uninterrupted.
HONORING FERNDALE'S DPW TEAM
To express the City's support for our public works team, the City Manager's Office and Human Resources Department created an awards program honoring peer-nominated employees for extraordinary embodiment of any of the City's four cultural values: inclusiveness, integrity, inspiration, or innovation. DPW staff were asked to share examples of colleagues being awesome on the job. A small leadership committee reviewed the nominations and selected the following three individuals, each of whom was awarded a $100 gift card in a short ceremony led by City Manager Joseph Gacioch.
"As individuals, as a DPW, and as a city government, we are defined every day by our habits and our actions, which in Ferndale reinforce our identity as a City that leads with integrity, seeks to be inspirational, pursues inclusiveness, and meets problems with innovation and creativity," Gacioch said. "Reading all of the positive comments shows me the value that each person brings to the team, and I'm proud to deliver these awards to individuals who were consistently mentioned for their efforts to lead with integrity, inclusivity, innovation, and inspiration."
Congratulations to our three winners, Derek Radell, Eugene Bobinski, and Caleb Clemmons, and thank you to every member of our DPW team: your service is appreciated and valued, today and every day.
‍
‍
‍