PRESENTATION | Racial Equity Update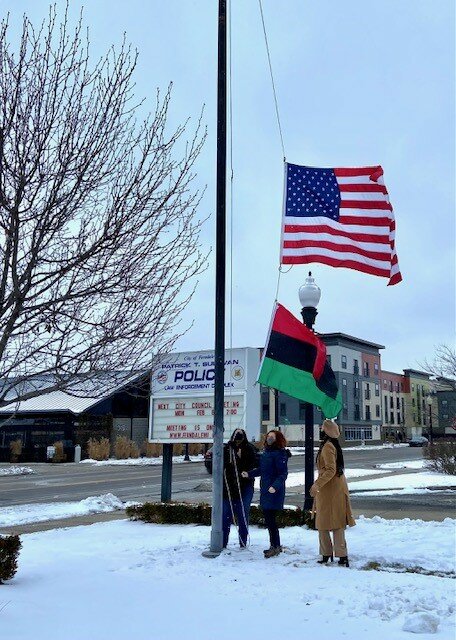 ‍
One year since Council approved Declaration of Official Commitment to Antiracism
City working to achieve racial equity: joins GARE, hosts Pan-African flag raising and Juneteenth, makes changes to promotions process
Next steps: three-pronged approach to community and City departmental engagement
‍
RACIAL EQUITY UPDATE
On Monday, June 28, 2021, Ferndale Human Resources Director Dan Jacey and Graduate Management Assistant Danicea Woods McSwain provided a presentation update to City Council about the steps taken and progress made in the City's move to advance racial equity.
In June of 2020, City Council declared an official commitment to antiracism with the following action items required of City staff:
Review recruiting, hiring, retention, and support policies, to be performed by Human Resources.
Study the Michigan Department of Civil Rights racial equity toolkit and develop a racial equity policy.
Develop a Community advisory board Staff will provide an update of progress made and identify next steps for moving forward.
In the year since City Council's declaration, staff have carried the mission forward by:
Joining and beginning to work with the Government Alliance on Race and Equity (GARE);
Creating a modernized and updated process for promotions within the Police Department, with a lens toward equity;
Passing a Proclamation recognizing Juneteenth as an official City holiday, and holding the City's first-ever community celebration for the event; and
Held the City's first-ever raising of the Pan-African Flag during the month of February, Black History Month.
The City's work on racial equity continues in the second half of 2021 with a three-pronged approach to community engagement including the development of a staff Racial Equity Advancement Team, a series of engagement meetings to learn from the community directly, and finally, integration of equity and research at the department level.
ASSOCIATED INFORMATION AND RESOURCES
Presentation - Racial Equity Update: June 28, 2021
Presentation - Racial Equity Six-Month Update and GARE Introduction: February 2021
Presentation - Racial Equity 90-Day Update: September 2020