Police Department Earns Prestigious Reaccreditation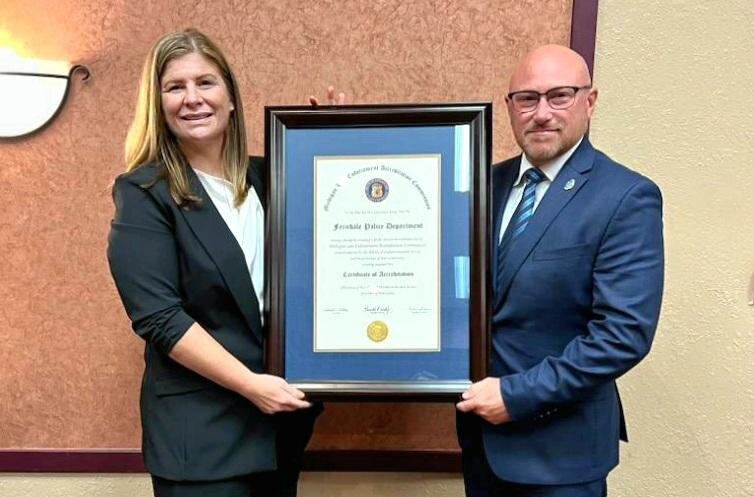 Police Chief Dennis Emmi is proud to announce that the Ferndale Police Department has earned Reaccreditation through the Michigan Association of Chiefs of Police (MACP). The Department was assessed by the Michigan Law Enforcement Accreditation Commission (MLEAC) Review Board on Sept. 27, 2023, and received official reaccreditation on October 1.
The Ferndale Police Department was among the first law enforcement agencies in the State of Michigan to earn the prestigious MACP Accreditation in 2020—a time-proven and systematic process designed to strengthen an agency's transparency, accountability, and professionalism. Ferndale's Department is now one of 65 agencies in the State to be Accredited, and is the twenty-fifth to receive Reaccreditation.
Professional Standards Sergeant Janessa Danielson, who served as Accreditation Manager, said that the Reaccreditation was a rigorous three-year process. She worked to analyze and update countless policies and procedures to help the Department meet 108 nationally recognized standards and best practices set forth by the MLEAC. The Commission reviewed all policies and written materials, spoke with both internal and external staff and stakeholders, held an open forum for community call-ins, and conducted a thorough on-site review before making their decision to Reaccredit.
In the end, Reaccreditation was based on the Department's standards of excellence in a number of areas, including training, records management, communications and public information, traffic safety and enforcement, criminal investigative work, and adherence to a strident Use of Force policy. "The agency was found to be well prepared for the onsite assessment and, following a thorough review, was found to be in compliance with all of the established accreditation standards," the MLEAC report stated. "Reaccreditation is recommended."
Learn more about the MACP Accreditation process and view the Department's Reaccreditation Report.