Ferndale Police Department Receives Prestigious Accreditation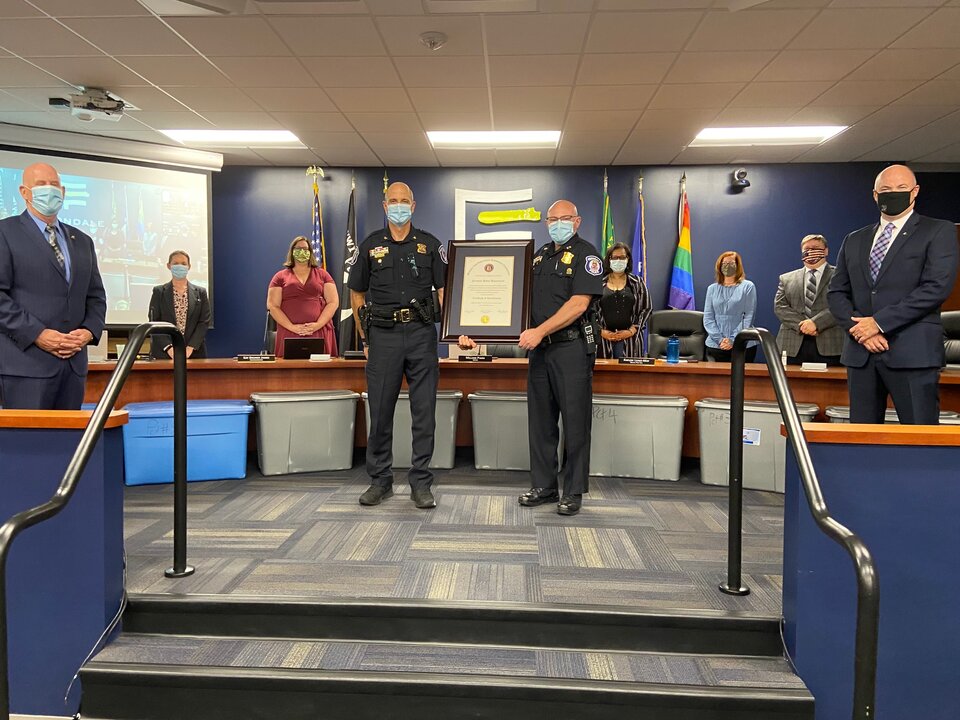 Police Chief Vincent Palazzolo is proud to announce that the Ferndale Police Department has earned Accreditation through the Michigan Association of Chiefs of Police (MACP). The Department's Accreditation was officially achieved on September 15 and recognized and announced publicly at the City's Council meeting on Monday, October 12.
The Ferndale Police Department is one of just twenty-nine law enforcement agencies in the State of Michigan to earn the prestigious MACP Accreditation—a time-proven and systematic process designed to strengthen an agency's transparency, accountability, and professionalism. The designation came after a rigorous process spanning a year and a half, during which Accreditation Manager Sgt. Baron Brown analyzed and updated countless policies and procedures to help the Department meet 108 nationally-recognized standards and best practices set forth by the Michigan Law Enforcement Accreditation Commission (MLEAC).
An Accreditation plaque was presented to the Department by MACP Executive Director Ret. Chief Robert Stevenson and current MACP President Chief Ronald Wiles, Jr.
"One of my duties is to travel around the State and interact with law enforcement agencies, and I can tell you from my experience that you have an excellent police department," Stevenson said during his presentation at Monday's City Council meeting. "And now that they've gone through the Accreditation process, you have an even better police department."
Stevenson said that successful completion of the Accreditation process, which is completely voluntary, puts the Ferndale Police Department in an exclusive position.
"To give you an idea of just how rarified your police department is, there are more than 600 law enforcement agencies in the State of Michigan, and yours is now one of just 29 that have voluntarily worked to become accredited," Stevenson said. "Your department was able to do what 95% of the departments in the State have not done to this point."
The MLEAC Accreditation process is much more than just an internal improvement. Palazzolo said that it required a strong dedication and commitment by the Department's Accreditation Manager, supervisors, and officers. Staff worked to put standards into place regarding all aspects of policing: financials, internal investigations, traffic stops, criminal investigations, officer wellness, recruitment, training, crime scene processing, and more. They spent considerable time on violence resistance (use of force), creating an eleven-point policy that addresses duty to intervene, criteria for using different forms of restraints and force, supervisory responsibilities, and the requirement of an annual, documented summary and analysis of all use of force incidents—a move that creates clear transparency between the Department and the public.
Following the lengthy internal process, the Department was thoroughly reviewed by auditors, who spent two days on site physically studying operations, comparing policy to actual practice, touring the city, conducting interviews with staff and community members, and filing a final report to the MLEAC board.
"Accreditation is a baseline of excellence and the new standard by which law enforcement agencies will be judged," said Palazzolo. "As a profession, we must continue to adjust our policies and practices and listen to our community's wants and needs."
Mayor Melanie Piana called the Accreditation an incredible accomplishment for the City.
"On behalf of City Council, I want to say how proud I am of this Department," Piana said. "Getting the process over the finish line is a testament to our Chief and officers, and I'm really proud to be mayor as this Accreditation is achieved."
Palazzolo said there is one main takeaway from this process: pride.
"The officers who patrol our city are the heart and soul of this department, and they've taken this process in stride and risen to the occasion," Palazzolo said. "I am honored to stand with the men and women who wear the Ferndale badge on their chests and show up every day to protect this community."