Ferndale Offers New Residential Rain Barrel Program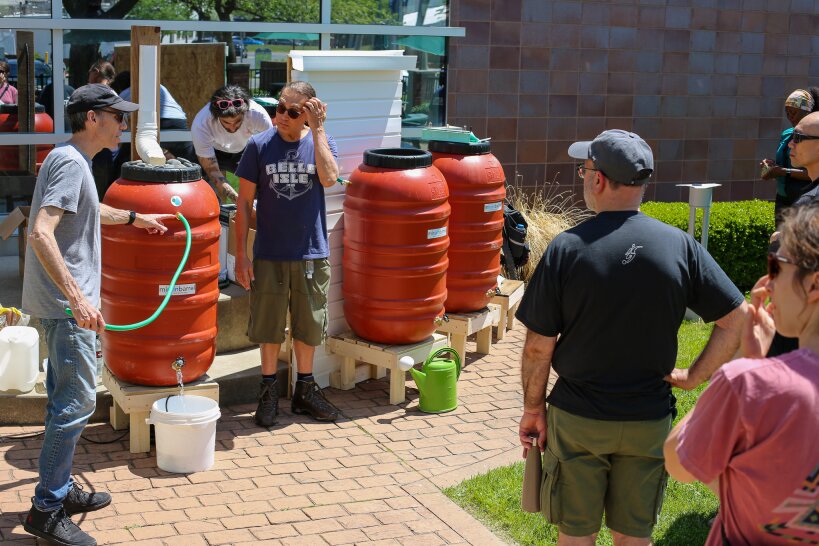 ‍
The City of Ferndale is pleased to partner with MI Rain Barrel to offer a new community rain barrel program. Residents are eligible to purchase a rain barrel kit at a deep discount thanks to a grant from the Michigan Department of Environment, Great Lakes, and Energy (EGLE). Rain barrels are available on a first-come, first-served basis.
Read on to learn whether a rain barrel is right for your home. Already decided? Purchase your rain barrel now by visiting the MI Rain Barrel signup page.
What is a rain barrel?
A rain barrel is a rainwater collection container that connects directly to the downspout of a gutter system. Water runs off the roof through the downspout and into the barrel during a rainfall. By capturing and storing rainwater for later use, you have free water to use on your landscape. Rain barrels help the city and environment by:
Reducing water pollution by keeping rainwater out of the sewers, preventing excess water from reaching wastewater treatment plants in areas with combined sewage overflow systems.
Reducing the bacteria, oils, grease, and other pollutants getting into local waterways.
Helping plants thrive by providing water without minerals, chlorine, or other chemicals.
Reducing peak water demand and the use of treated municipal water for outdoor purposes.
According to the U.S. Environmental Protection Agency, about 30% of the water used in the average American household goes to outdoor tasks such as washing the car or watering lawns and gardens. Water stored in a rain barrel can be used for these everyday outdoor activities. The Ferndale Environmental Sustainability Commission and the Clinton River Watershed Council promote rain barrels as an excellent way to collect and reuse water. Collecting rain water is legal and encouraged!
Is a rain barrel right for me?
When deciding whether a rain barrel will work at your home, ask yourself two important questions:
Does my home, garage, or shed have a gutter and downspout?
Can I use the water collected in the barrel?
A rain barrel must be placed adjacent to your downspout, which requires you to add a diverter to the downspout to divert water into your barrel. You'll need to keep in mind that the barrel must be emptied regularly between rainfalls.
What is the cost?
The Ferndale Environmental Sustainability Commission has created a sliding-scale pricing model to ensure that all Ferndale residents can participate.
Option 1, $60 per kit (right for most people): After the EGLE grant subsidy, this is the price we need to charge to cover production expenses. This is $100+ off the retail price.
Option 2, $30 per kit (reduced price for low-income residents): For those who need help affording a rain barrel; typically best for households at or below 200% of the Federal Poverty Guidelines.
Option 3, $90 per kit (pay it forward donation): This price is closer to what you would pay for a rain barrel at a store. Your choice to pay at this rate supports the reduced price kit.
Pickup details
Pickup will be on Saturday, April 1. Arrive anytime between 10:00 a.m. to 2:00 p.m. in the Ferndale City Hall Parking Lot, 300 East 9 Mile Rd.
You will be notified via email prior to April 1 with specific pickup details. If you have not received an email, be sure to check your spam folder to verify.
A rain barrel will fit easily in the back seat of a sedan, but not always in sedan trunks. The plastic 55-gallon rain barrels weigh around 25 lbs. We will have people available to assist in loading rain barrels into vehicles. If you cannot pick up your order, please send someone else in your place. If you are interested in a rain barrel, but do not have a way to transport it to your residence, please reach out to Zero Waste Coordinator Claire Dion at zerowaste@ferndalemi.gov prior to purchasing.
What does a rain barrel kit include?
MI Rain Barrels are built using food-grade drums previously used to transport items like pickles and would otherwise end up in a landfill. They:
Holds approximately 55 gallons
Has an easy on-and-off twist top lid
Come with brass spigot sealed with waterproof caulk
Has a brass inlet fitting sealed with waterproof caulk
Has Catch-A-Raindrop diverters with 4' connecting hose
Dimensions range from 23-24″ in diameter and 35-41″ tall
Kit includes everything you need to set up the rain barrel – except tools
Additional information
You must agree to pick up your order according to the posted location, date, and time.
All sales are final. There are no returns or exchanges.
Rain barrels purchased through this program must be installed at Ferndale properties.
Never use the water from your rain barrel for drinking or cooking.
Get a sneak peek
Want to check out what your rain barrel would look like? A demonstration has been set up in the front-entrance entryway at City Hall. Drop by anytime during regular business hours to get a look.
Get your rain barrel now
Purchase your rain barrel by visiting MI Rain Barrel and clicking on Ferndale Rain Barrel Workshop.
‍