Ferndale Fire Department Assists in Rescuing Dog from Fire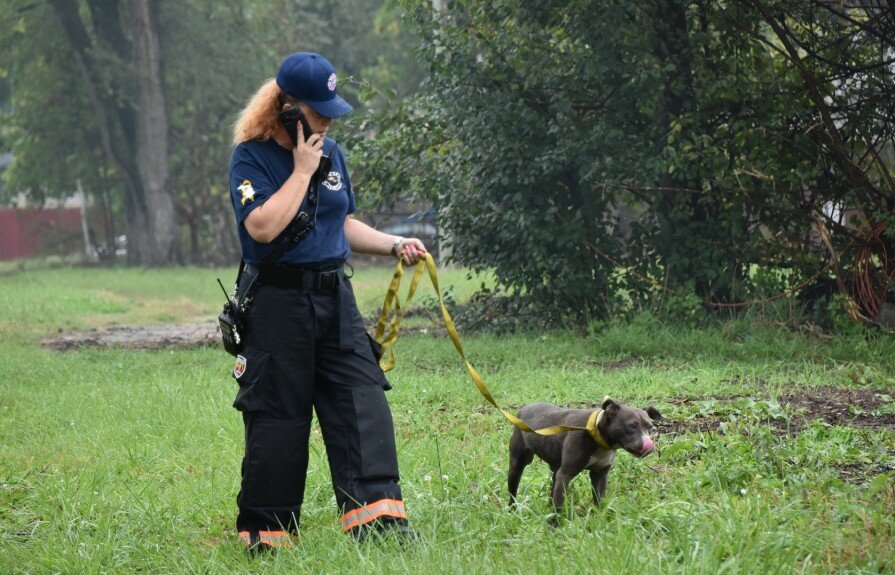 (Photo by Daniel Jasina)

On Sunday, October 3, around 10:00 a.m., the Ferndale Fire Department responded to a report of a fire at a vacant Royal Oak Twp. church. The Ferndale Fire Department, assisted by the Madison Heights Fire Department and the Birmingham Fire Department, reported to the scene. Upon inspection, a Madison Heights firefighter noticed there was a frightened dog among the blaze. As the firefighters attempted to rescue the dog, she managed to wedge through a small opening and escape with minor burns. Ferndale Fire Chief Teresa Robinson called out to her as she fled the scene, and the dog immediately ran back to thank her rescuers. The fire was quickly extinguished with no additional injuries at the scene.
"She was scared, but there was not an ounce of aggression in her body," said Chief Robinson. "She just wanted to be loved." Chief Robinson recounted how she sat on the ground with the dog, who immediately gave her many grateful kisses and cuddles.
The dog - now named "Miracle" for her miraculous story - has been treated for her burns at the Oakland County Animal Shelter. She will be released for adoption in the coming days.
"When we found her, we weren't sure about the extent of the fire," said Chief Robinson. "This is a great thing to celebrate; we don't always have positive outcomes like this." Chief Robinson is eager to share her story in hopes of finding Miracle a loving home.