Detroit Institue of Arts' Inside|Out Program Comes to Ferndale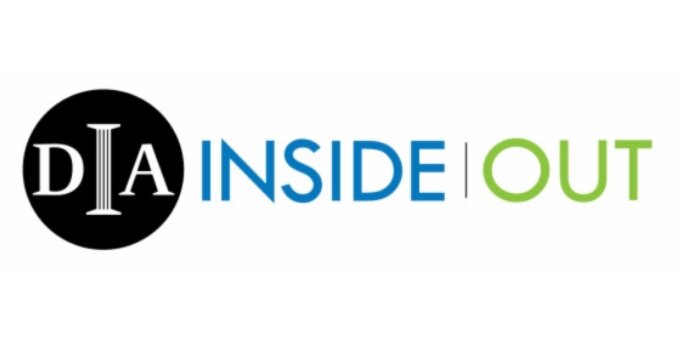 The Detroit Institute of Arts' Inside|Out program has returned for its twelfth year, bringing high-quality reproductions from the DIA's collection to Ferndale. The reproductions will be on display from June to October in various areas throughout the community. Learn more about the pieces and their locations below.
‍
Edouard Duval-Carrié, born and raised in Haiti, fled a military regime during childhood. He took residence in diverse locales including Toronto and Miami, and piqued an interest in personal history and colonization. Much of his art asks the viewer to contemplate how Africa shaped America and how the Caribbean shaped the modern world. In Untitled, we see migration and transformation, symbolized by a man in military uniform on a battleship being guided down a swelling river by dog-like creatures. - Lauren Osuch (Member of Ferndale Arts & Cultural Commission)
‍
I've always been attracted to Ben Shahn's work when I see it at museums, so it was fun to finally learn more about him and realize that the we have such common roots and values. Like me, Shahn has Jewish, immigrant roots and is dedicated to issues of social justice. Artistically, he is known for his works of social realism. This painting, Bookshop: Hebrew Books, Holy Day Books brings it all together. Its Hebrew letters and close up of the woman book seller with a baby on her back depicts an everyday person. It is totally relatable to me and to people from all walks of life. It is perfect for the library setting! Oh wait I just realized the name of the store says Levinson. That's my mother's maiden name. Talk about relating. This painting and me; It was meant to be! - Linda Ashley (Member of Ferndale Arts & Cultural Commission)
‍
A product of circumstance, Stettheimer developed early on, a luxuriant objectivity to the flamboyance of the Jazz age. She imbibed an affinity for her la fȇte subjects, including famous friends such as Marcel DuChamp, from her salon upbringing. Plush with affection and humor, her subjects, as seen here, were often softened with disillusionment amidst their flagrant society backdrops. - Tim Pare (Member of Ferndale Arts & Cultural Commission)
‍
I've always loved the name Ashcan School of American Art and now, taking a closer look at Fourteenth Street at Sixth Avenue, I'm learning what it means. Artist John Sloan was one of the founders of the Ashcan Movement, though he hated the name. In the early 1900s, he and other Ashcan painters painted scenes of city life, including people from all walks of life - from regular working people to dubious characters. He concentrated on gritty New York street life. Ashcan is a school of art that was a big departure from romanticized art that came before. But best of all is the story of how the DIA got this painting. It was painted more than 75 years ago, but was missing for 65 years! Sloan painted it for the Public Works of Art Project, which was created to employ artists during the Great Depression, and thus it became property of public offices. At first it hung in the office of a New York Democrat's Senate office, but when the office changed hands to a new Senator, it was taken down and lost! It was found in the trash in the 1980s, taken home by a staffer and eventually given to a sister in Traverse City. When a nephew realized who the artist was, they decided to give it to the DIA, and the painting is worth a million dollars! You can't make this stuff up! - Linda Ashley (Member of Ferndale Arts & Cultural Commission)
‍
Venice is one of my most favorite places in the world and I really appreciate that Canaletto captures daily life in his paintings. Looking at Canaletto's work, I'm reminded of the significance of everyday moments. How many people met friends, raised children, fell in love, or simply lived their lives in this square? While it is a famous site, it has also been the location of countless extraordinarily ordinary, but no less meaningful, moments. Perhaps the Venetians view Piazza San Marco with the same affection we Ferndalians view any one of the countless favorite spots around town. And perhaps someday, many years from now, someone will see a picture of Ferndale and feel a connection to those of us viewing this art today. - Mary Ellen (Member of Ferndale Arts and Cultural Commission)
‍
Do you see the past? Present? Future? If you look closely you might see it all. I see the intersection of the past - through the ancient symbols, the present – through the figure's tension, and the future – through the forward movement. This piece resonates deeply because of my personal journey managing different levels of intersectionality: the obligation to honor my Latin heritage/history (past), the tension created by self-induced imposter syndrome (present), and the expectation to always move. - Augusto Mike Flores (Chair of Ferndale Arts and Cultural Commission)
‍
This program was made possible from the dedicated volunteer efforts of the Ferndale Arts and Cultural Commission. To learn more about the Inside|Out Program, visit the program page.