City Launches Police Advisory Board Application Process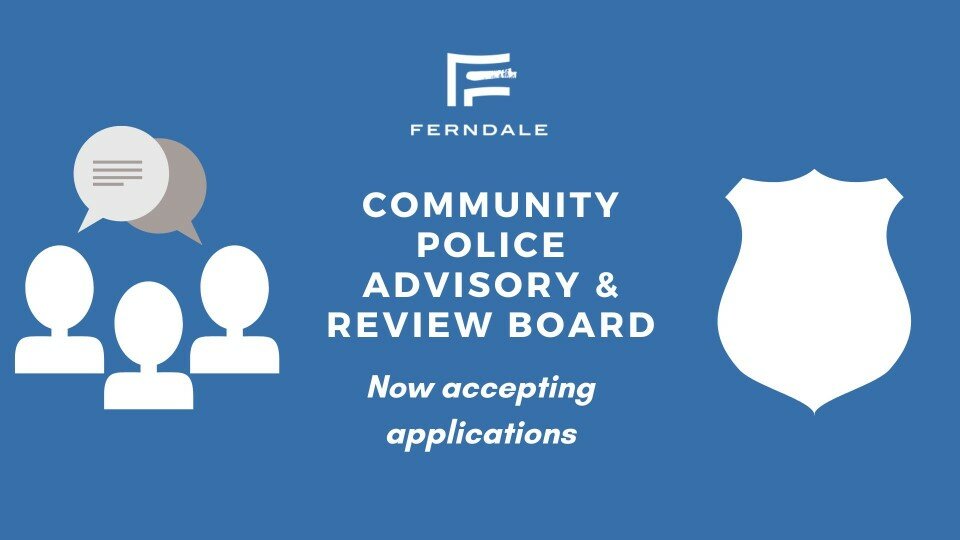 ‍
At their regular meeting held on Feb. 13, Ferndale City Council approved an ordinance establishing a new Community Police Advisory & Review Board (CPARB). The City is now in the process of recruiting citizens interested in serving on the Board, which seeks to improve transparency and build relationships between the community and Ferndale Police Department.
SEEKING CITIZENS
The City is seeking five citizens to serve on this Board. All interested people are encouraged to apply; preference will be given to those with experience in the fields of mental health; law enforcement; mediation; social work; diversity, equity, and inclusion (DEI); restorative justice; public administration; or other related fields.
HOW TO APPLY
Resumes and/or letters of intent are encouraged and can be attached to the form.
The deadline to apply is Friday, May 5. Mayor and Council expect to review applications in May.
TIME COMMITMENT AND EXPECTATIONS
The Board will meet a minimum of four times per year (quarterly) on the fourth Wednesday of every quarter. Quarters are based on the City's fiscal year (July 1-June 30). The initial schedule of meetings, including an orientation, are:
July 26, 2023 – Board Orientation
October 25, 2023: 6 p.m.
January 24, 2024: 6 p.m.
April 24, 2024: 6 p.m.
June 26, 2024: 6 p.m.
Board appointment lengths range from one-to-three years, with one one-year, two two-year, and two three-year appointments available.
Board member responsibilities include reviewing documents, preparing for meetings, and participating in decision-making through the agenda and deliberative process provided by the Chair.
Board Chair responsibilities include running meetings through parliamentary procedure, working closely with the staff liaison appointed by the City Manager, and leading the members to achieve positive forward progress toward fulfilling the Board's mission.
HISTORY
City Council passed a Declaration of Commitment to Anti-Racism in June of 2020, launching a number of equity initiatives that included a review of recruitment and hiring policies led by the Human Resources Department, the study and creation of a Racial Equity Policy led by the City Manager's Office, and the research and recommendation of a potential community police advisory board. In the three years since, the City has made several important steps towards achieving these goals. Ferndale joined the Government Alliance on Race and Equity (GARE), drafted and approved a Racial Equity Policy, and now has an active Racial Equity Action Team in place. Most recently, the City Manager's Office—working closely with City Council and Ferndale Police leaders—has overseen the process of developing the City's first CPARB.
The Police Department itself has made great efforts to achieve and sustain a modern and equitable force. Since 2016, they've been working to instill and adopt the tenets of President Obama's Task Force on 21st Century Policing. They hired their first Community Engagement Officer, whose role includes communications, education, and mediation with the community. They were one of the first departments in Michigan to achieve accreditation by the Michigan Association of Chiefs of Police—a rigorous, year-long process that requires high-level review of all internal policies, procedures, and facilities. They implemented programs like Hope Not Handcuffs, formed partnerships with organizations like Common Ground, and worked towards decriminalizing addiction and providing mental health support to those in need.
The CPARB Ordinance is a next step to further the common goals of the Police Department, City Manager's Office, and City Council.
‍