City Council Approves New Citizen Police Advisory and Review Board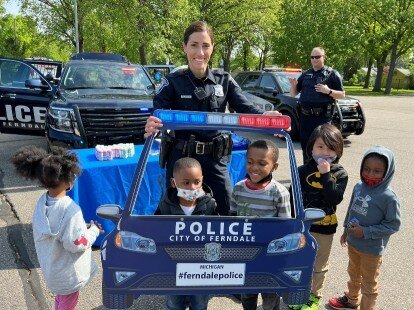 ‍
At a regular meeting of Ferndale City Council held on February 13, 2023, Council voted to approve the creation of a new Citizens Police Advisory and Review Board (CPARB). The item, spearheaded by Mayor Pro Tem Kat James and supported by the City's Ordinance Committee, was approved unanimously.
James said that the CPARB is the result of a process dating back to President Obama's 2015 Report of the Task Force on 21st Century Policing.
"Tonight's recommendation is really a continuation of the work initiated by Ferndale's previous City Council," James said. "They adopted a community-oriented policing model in 2016, a product of the President's Task Force, and the City and Police Department have been working to advance racial equity and transparency initiatives ever since."
These initiatives include the Police Department's revival of the Citizens Police Academy, the addition of a Community Engagement Officer in 2016, numerous streetcorner roundtables by Police leaders, and completion of a rigorous accreditation process through the Michigan Association of Chiefs of Police.
City Council approved a Declaration of Commitment to Antiracism in June of 2020; the research and development of a CPARB was one of the tenets of this Declaration, along with committing the Human Resources Department to reviewing recruiting, hiring, retention, and support policies, and the City Manager's Office to studying and developing a Racial Equity Policy.
Since that time, the City joined the Government Alliance on Race and Equity (GARE) to help achieve these initiatives, created a "ban the box" policy that removes questions about conviction history for job applicants and helps eliminate bias in the hiring process, and developed the organization's first Racial Equity Action Team.
The CPARB—the final step in the City's antiracism declaration plan—is meant to accomplish several goals, according to James: foster communication between the community and police leadership, provide even greater transparency, strengthen community relationships, and provide racial impact assessments and reporting.
After the item was passed, Mayor Melanie Piana expressed her support and thanks to the Ferndale Police Department.
"Thank you to all of our police officers who work hard to support Ferndale's values as an organization and serve our community with honor," Piana said. "Our law enforcement leaders are changing and bettering their profession."
Next Steps
March 2023
The City will open the application process for citizens interested in serving on the CPARB. If you have skills and/or interest in law enforcement, criminal safety, the legal system, education, corrections, municipal government, or similar, and are interested in receiving an application, please email the City Manager's Office and we'll send you an application when the process opens.
May-June 2023
Selection process occurs; CPARB positions announced.
July 2023
CPARB meetings begin.
‍