City Announces Partnership Between Ferndale Police Department and Common Ground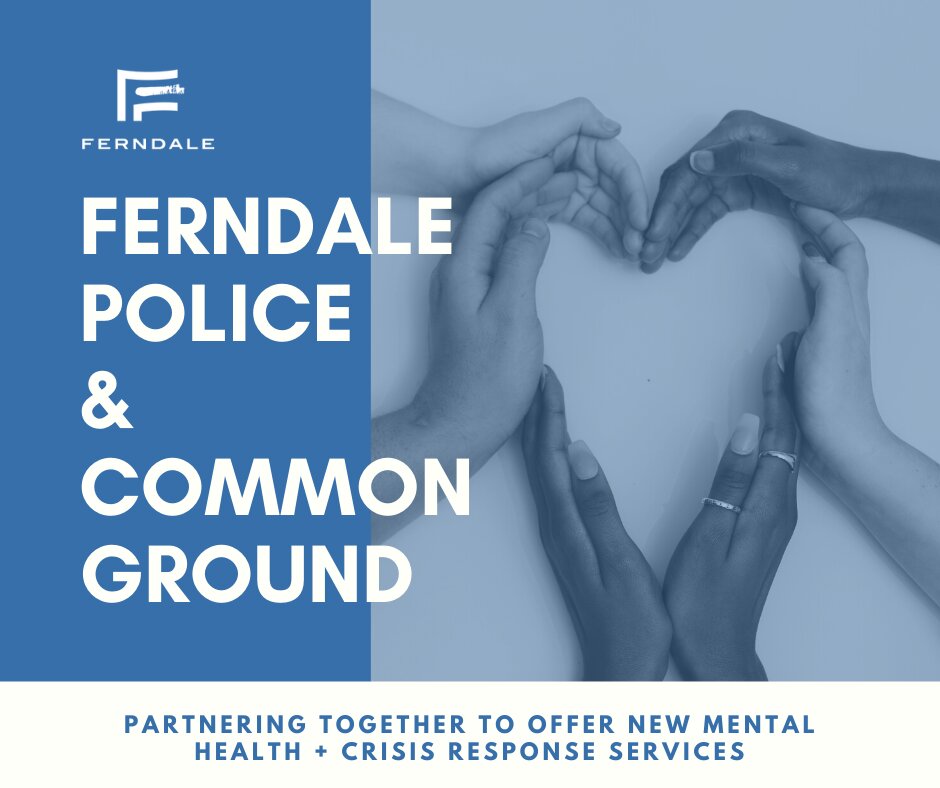 The City of Ferndale has announced a new collaboration between the Ferndale Police Department and Common Ground, Oakland County's leading crisis services agency. The partnership—made possible by a SAMHSA Follow-up Expansion Grant—will put Common Ground in a position to help Ferndale first responders recognize opportunities for crisis management support and connect in-need individuals and families with available programs and services.
Common Ground is entering year two of the three-year grant program, which seeks to provide follow-up care and service continuity to individuals at high risk of suicide or experiencing high levels of anxiety or depression. After a successful trial collaboration with the White Lake Police Department, the organization selected the Ferndale Police Department as one of their next grant partners.
"We're taking our mental health services into the community, directly to the people most in need," said Elizabeth Kjar, Project Director for Common Ground. "Police officers are often the first responders to crisis calls, with 911 being a universal qualifier these sorts of service requests, so we're helping officers identify people in need and refer them to our organization, where they can receive the support they need."
Officers will be trained to ask five questions to determine whether an individual needs crisis intervention, including simple yes-or-no questions about violence, thoughts of suicide or self-harm, and substance abuse. Common Ground will follow up with referrals and provide a continuity of care—an aspect currently missing from many mental health service calls. Referring resources and follow-up care are provided only with individuals' consent.
Severe cases requiring immediate intervention or hospitalization will be managed by Common Ground's Mobile Crisis Response Team, with follow-up care consisting of support services, substance abuse treatment and intervention, and assistance with identifying and eliminating high-risk or dangerous situations.
"Police officers have few options at their disposal to resolve situations where mental health is the underlying issue," said Ferndale Police Chief Dennis Emmi. "These limited options compel officers to utilize temporary solutions, which often leads to repeated calls of a similar nature. Our partnership with Common Ground will provide people in crisis with the resources needed to improve their mental health, hopefully ending the cycle of temporary solutions to peoples' mental health issues."
Ferndale City Council unanimously expressed their support for this program during the May 24 City Council Meeting, citing mental health as a critically important issue.
"Too often, mental health issues are falling on our law enforcement officers and first responders," said Ferndale Mayor Melanie Piana. "They have done a valiant job of addressing it until now, but it's clear that mental health professionals, in the right scenarios, are the best case managers to assist with this critical work. Thank you to our Police Chief, Captain, and City Manager's team for exploring new partners to complement and assist our Department, and to Common Ground for offering a human-approach solution to these kinds of health issues."
‍