Water Main Break: Boil Water Advisory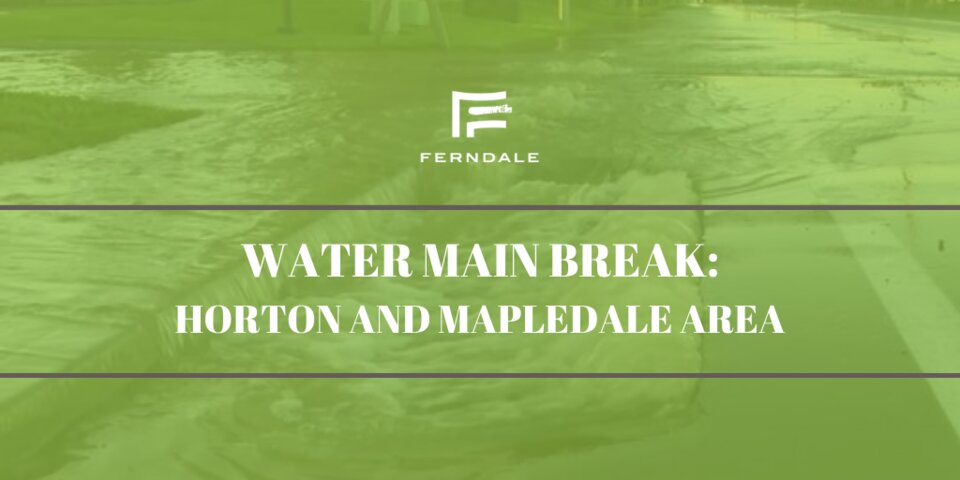 BOIL WATER ADVISORY

DRINKING WATER ADVISORY
The Ferndale municipal water system lost pressure in the area of Horton Street from Mapledale Street south to where Bermuda Street and Horton Street intersect. This area is under a boil-water advisory for 24 hours.  
BOIL YOUR WATER FOR THREE MINUTES BEFORE USING
Do not drink the water without boiling it first. Bring all water to a rolling boil for at least (3) three minutes, and let it cool before using, or use bottled water. Boiled or bottled water should be used for drinking, making ice, brushing teeth, washing dishes, and food preparation until further notice. Boiling kills bacteria and other organisms in the water. View the graphic below for more information.
WHY ARE WE TAKING THIS PRECAUTION?
The water in your area was shut down on the morning of Wednesday, July 14, to investigate a damaged water main. Because of heavy rains in the area, the main break is adjacent to standing stormwater. This situation carries with it a potential that disease-causing organisms could enter the distribution system, which could pose an imminent and substantial health endangerment to persons served by the system.
Out of an abundance of caution and to ensure that no contamination exists, the Department of Public Works is testing the water, flushing the local system, and will then re-test in 24 hours. After these water samples are tested and confirmed contaminate-free, we will lift the boil-water advisory.  
FOR MORE INFORMATION
For more information, please contact the Department of Public Works at (248) 546-2525 (Option #3).